Changing the Game and the
Get in and Win System.
Turn Your Passion for Sports into a Compound Money Machine…
Changing the Game introduces the serious sports fan to the exciting world of sports wagering. It strips away the misconceptions surrounding sports betting and shows the activity for what it actually is – a legitimate game of skill that provides informed fans the chance to get off the sidelines and truly experience the thrill of winning the game alongside their favorite teams, players and coaches.
While, Changing the Game shows you how to bet smart it's not just a course for sports bettors. Anyone that has a keen interest in sports (including fantasy players, weekend warriors and arm-chair quarterbacks) will find the information presented compelling.
That's because Changing the Game is an entertaining and provocative explanation of a controversial activity that has become a very big business and is growing rapidly all over the world. What's more it serves as a clever reminder that investing is really just a game of making high-odds bets that requires extreme patience and discipline to be successful.
Whether you are a fantasy sports fanatic, an experienced sports bettor, a casual fan or an investment professional, the information contained in Changing the Game will open your eyes to an entirely new way of looking at sports.
After becoming a Changing the Game member, you will never view what is happening on the field or the court — or on Wall Street — in the same way again.
Click Here To Learn More About Wagering The Wall Street Way
Or call customer service at 1-800-393-1706
(Overseas, call 1-561-627-3300)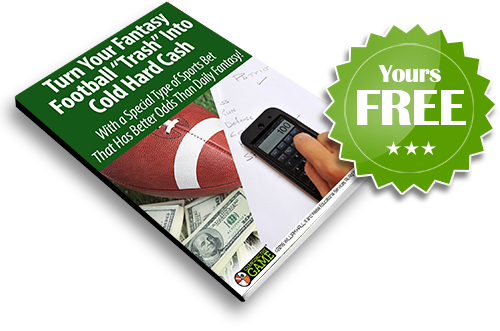 To Turn Your Fantasy Trash into Cold Hard Cash!
Did you know you can use your deep fantasy knowledge to make Football Prop bets… and make more money than playing Daily Fantasy? Enter your email to receive Bill's FREE Report.
Email me the FREE report!
You will also receive a complimentary subscription to our 
Get In and Win
 newsletter.  You can unsubscribe at any time.
We respect your privacy
.
Winning More Bets… As Simple as 1+2+3!

The secret to the success of Get In and Win is three proprietary tools Bill has created. These tools are based on years of research and game simulations.

And when you combine them with Bill's unique sports betting strategy (more on that in a moment), you'll win more bets AND hang on to more of your winnings.
Since the 2016-17 Pro Football Season is now upon us, let me show you how Bill's system can help you win more bets this season than ever before!
All you need to do to get started is follow these three simple steps…
STEP #1:


Value Ratings
the perfect score predictor!

In a perfect world a sports bettor is seeking one measurement that will tell him or her which team will win, which will lose, and by how much. One metric that is easy to understand, accurate and complete.
The proprietary Get In and Win Value Rating IS that number!
It is the one statistic you have been searching for that will give you a complete measure of a team's most likely actual performance.
Proper Value Ratings, combined with your own judgement, are extremely accurate predictors of the outcomes of games.
Plus, the Get In and Win Value Ratings…that Bill sends you for all 32 teams EVERY week of the Pro Football Season…are a big improvement over the familiar power rankings that can be found on every popular sports website.
They are the first step in a three step process that was initially developed by Bob Succi, the legendary sports book manager at the Stardust Casino, Joe Del Popolo, the founder of GamePlan magazine, Phil Steele, publisher of the widely read Phil Steele college and pro football annuals, and Mike Lee, a well-known professional sports bettor.
The simple yet accurate Get In and Win Value Rating is the first step on your way to winning a greater percentage of bets!
As part of the Get In and Win System, Bill will send you the Value Rating of all 32 Pro Football teams EVERY week…as soon as the week's games are complete. And he adjusts them each week to give you the most accurate up-to-date information.
Casual sports bettors looking for a sensible way to just do better than the average fan may want to stop right here, at the Value Rating level of analysis. But if you are after the BIG rewards you will want to go further.
Think of it this way. The Value Rating is the road map you would use to get you from your house to the stadium for the game. Once inside the arena, you need something more exact so you can find your seat.
You need a more detailed guide where you can REALLY increase your WIN RATE and help put more money in your pocket each week which brings us to…
STEP #2:


The Score Sheets
put you in the winning seat!

The Get In and Win Score Sheets help you easily analyze the individual factors that determine the score of a game AND forecast the total points that each team will score in a game.
Once you know the number of points each team is projected to score, then the point spread can be calculated.
Aligning the conclusions of Value Rating with the Score Sheet gives you a comprehensive 360-degree perspective on the game.
The Score Sheets are based on extensive research published by statistical experts who have studied football, basketball, and baseball in great detail for years.
SPORTS FANATICS LOVE THE PRO
FOOTBALL SCORE SHEETS!
The Score Sheet is what every sports fanatic has been waiting for. They let you put to use all that knowledge you have been gathering over the years about your favorite players and teams, to make BIG money.
Based on Bill's sophisticated, statistical and economic modeling tools (too boring and complicated to explain here), the easy-to-use Score Sheets are designed so that you can simply plug in the relevant statistics and out pops…
…AN ACCURATE PREDICTION OF THE NUMBER OF POINTS EACH TEAM WILL SCORE IN A GAME.
And best of all, when you join Get In and Win, you don't have to do all the math because the Score Sheets do it for you!
Looking at Pro Football, to predict the number of points each team will score in a game, you just need to take the Weekly Stats that Bill rushes to you each week, for every Pro Football team, and plug them into the Score Sheets for the game you are considering betting on.
These include…
• Rushing attempts
• Net rushing yards
• Passing attempts
• Net passing yards
• Fumbles
• Interceptions thrown
• Missed field goals
Now I know you sports fanatics can get very detailed (almost obsessively am I right?) and will want to use the estimated individual performances of EACH player to come up with the total for each category, but that is not really necessary. The Value Ratings and the Score Sheet do all that for you already.
The Value Ratings and Score Sheets give you two ways to calculate your own point spread for any game.
Now we are ready to examine where the REAL MONEY IS MADE!
STEP #3:


THE MARGIN OF SAFETY
Where the BIG money is made.

Once you have found the games where there is alignment between the point spread forecast using the Value Ratings and Score Sheets you are ready to…
…COMPARE YOUR POINT-SPREAD FORECAST TO THE LINE POSTED BY THE SPORTS BOOK.
This is where the BIG money is made.
You are looking for ONLY those games where there is a significant difference in the point spread you have calculated and the posted line. We call this The Margin of Safety.
You should ONLY bet when there is a comfortable Margin of Safety.
The appropriate Margin of Safety is tricky to nail exactly as it requires some judgement on your part. But my experience tells me that you want AT LEAST a 15% Margin of Safety in order to place a bet and risk your money.
When you join Get In and Win you'll get complete Margin of Safety Cheat Sheets for Pro Football. These Cheat Sheets tell you the actual margin of safety between your point-spread forecast and the posted line so that you don't have to actually calculate it.
In other words, the Margin of Safety Cheat Sheets do ALL the work for you!
+ A CHANCE TO TURN JUST $500 into $256,112
The Margin of Safety Sheet was derived from the ACTUAL risk control calculations the sports books themselves use when setting their betting lines.
Here's an example of how easy the Margin of Safety Sheet is to use and help you determine if you should risk money betting on a particular game…
Say the Patriots are playing the Giants this week. You've checked the alignment between your Value Rating and Score Sheet and determined that the Giants should be 3 point favorites as shown below…
YOUR FORECAST
N.E. Patriots
New York Giants (-3)
However, the Posted Line at the sports books has the Giants favored by 7 points
POSTED LINE
N.E. Patriots
New York Giants (-7)
The four-point difference between your forecast and the posted line is telling us that the Giants are overvalued by the betting public and the Patriots are undervalued.
Now, the BIG QUESTION becomes: Is the Margin of Safety related from this 4-point difference large enough to place a bet on New England?
Here's where the Margin of Safety Cheat Sheet makes it so simple:
The table above represents a sample Margin of Safety Cheat Sheet from the Get In and Win Pro Football Playbook. As you can see, the margin of safely between your forecasted line of (-3) and the posted line of (-7) is 25%.
This means New England can play 25 percent worse than your forecast before you lose the bet. Another way to look at it is that New England can absorb a number of unanticipated negative events like injuries, turnovers, bad bounces, etc… before causing you to lose your bet on the Patriots.
Now since a 25 percent margin of safety is GREATER than our 15 percent threshold requirement, you should place a bet on New England.
Can it get much simpler than this? I don't think so.
Or call customer service at 1-800-393-1706
(Overseas, call 1-561-627-3300)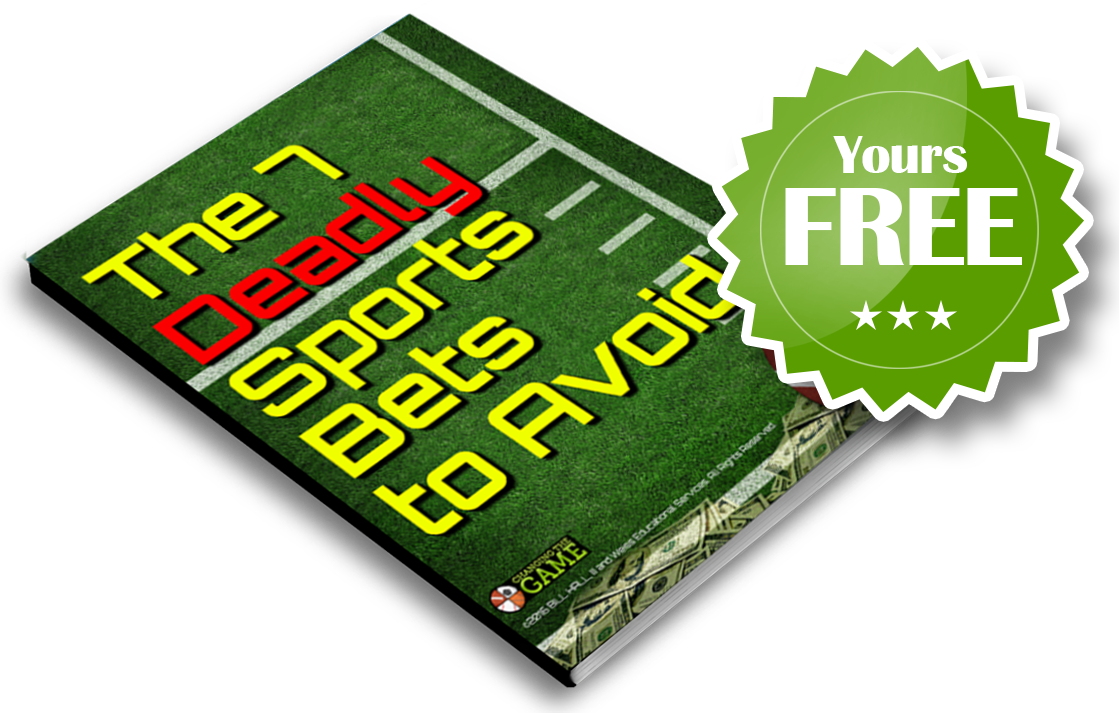 FREE REPORT – Don't make these costly betting mistakes.

In this FREE special report, you'll discover seven common sports bets where the odds are overwhelmingly stacked against you … and you're practically guaranteed to lose your money.
Get a FREE report!
You will also receive a complimentary subscription to our 
Get In and Win
 newsletter.  You can unsubscribe at any time.
We respect your privacy
.